Thanks Christine for taking me to the
NY Times food thing
. It was interesting. The pork belly in apple cider reduction that
Tyler Florance
made was amazing. He seemed like a nice guy.
Rocco Dispirito
, on the other hand, seemed like an arrogant prick.
A pic of Rocco and Tyler florence: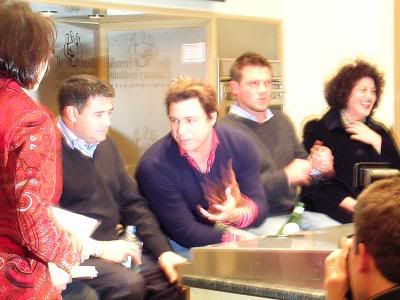 Saturday night was the fourth to last Guided by Voices show ever. At the bar beforehand, Conor Oberst from
Bright Eyes
walked up to our table and kind of freaked us out. Was he wasted? He couldn't say anything, just kept approaching us with his mouth open and making some kind of noise. When we got to the show, Chloe Sevigny walked right in, stopped in front of me looked around, and then found her place upstairs. Walking home last night, Rick Rubin was walking a few blocks from my house, dressed up in his work out clothes. Funny.